Florian & Michael Quistrebert

The Descent,

Text

On semble observer dans cette nouvelle série de peintures la recherche d'une synthèse de vos différentes périodes, en particulier des séries ExFuturo, Bleaches, Stripes. Comme si vous emmagasiniez progressivement l'énergie des productions précédentes. Comment cette série est-elle arrivée ?

On a voulu dès le départ faire des peintures très aériennes, vaporeuses avec des tonalités évoquant les lumières des transcendantalistes américains. The Descent, le titre de cet ensemble, évoque un mouvement vertical, avec parfois un escalier esquissé entre deux toiles.
Dans cette série, il y a certainement des réminiscences de séries antérieures, mais avec un langage plus précis qu'auparavant. Les compositions adviennent par déclinaisons de deux ou trois mouvements symétriques, la dynamique couleurs / lumière faisant apparaitre des volumes, des rythmes. Ça devient musical, les peintures pourraient d'ailleurs être des stills tirés de nos vidéos.


Cette cristallisation des différentes périodes de votre travail (tant dans les matériaux que dans les enjeux) s'effectue-t-elle plutôt par empilement, par accumulation quasi involontaire ou procède-t-elle d'une sélection consciente ?

Notre travail est plutôt cyclique dans son ensemble, on entreprend une nouvelle série pour changer de direction par rapport à la précédente, et il arrive alors que l'on se penche à nouveau sur des toiles plus anciennes, pour les approfondir, les aiguiser. Après plusieurs années tournés vers une peinture matiériste obèse, nous sommes revenus à la géométrie vaporeuse comme à l'époque d'Ex Futuro. Mais à la place de la peinture en bombe (industrielle et sale), on opte pour l'aquarelle en spray (lumineuse et pure). Et bien qu'il s'agisse d'aquarelle, il est toujours question de faire une peinture de l'excès à la limite de l'écœurement. Dans The Descent, les dégradés de couleurs vacillent entre les teintes crépusculaires de Georgia O'Keeffe et des paysages SF à l'aérographe.


Dans les peintures de cette nouvelle série, vous utilisez une toile de jute, brute, impure dans sa texture et une peinture aquarelle travaillée en spray. On perçoit des tensions contradictoires entre les différents éléments : cherchez-vous une forme d'affrontement ou de fusion ?

Le tissage irrégulier et velu de la toile de jute est là pour faire grésiller la pureté de l'aquarelle vaporisée, elle lui donne une sensualité rêche. C'est doux et râpeux à la fois.


Vous avez, dans l'ensemble de votre production, cherché à manipuler la lumière : quelle est la part du visible et de l'invisible dans ces différentes expériences ? Quelle interprétation en faites-vous sur la définition de votre peinture ?

La lumière est l'élément central de notre peinture, on pourrait d'ailleurs dire que nos différentes séries sont des portraits dont le seul sujet est la lumière.
Ce qui est intéressant avec la lumière, c'est l'ambivalence qui la fait balancer du sacré au matériel, de l'ésotérique au technologique… Nos peintures jouent excessivement de cette ambivalence, la lumière y apparaît en regard d'un élément rugueux. Dans cette nouvelle série à l'aquarelle, la source de lumière vient de ce qui n'est pas peint, l'éclat qui irradie les sommets en arcs-en-ciel cubistes vient donc du blanc brut de la toile de jute.

In this new series of paintings, there seems to be a quest for a synthesis between your different periods, in particular the series ExFuturo, Bleaches and Stripes. As if you were progressively storing up the energy of your previous productions. How did this series come about?

To start with, we wanted to make paintings that were very airy and misty, with tonalities that evoked the lighting of the American Transcendentalists. The title of this series, The Descent, evokes a vertical motion, with sometimes a stairway sketched between two canvasses.
In this series, there are definitely echoes of previous ones, but in a language which is more precise than before. The compositions arise from variations on two or three symmetrical movements, while the dynamic of the colours and light brings out their volumes and rhythms. It all becomes musical, the paintings could in fact be stills taken from our videos.


Does this crystallisation of different periods of your work (both in the materials and in the concerns) come about more through a piling-up, an almost involuntary accumulation, or does it arise from a conscious selection?

Overall, our work is quite cyclical. We launch a new series so as to change directions from the previous one, and it can then happen that we look back over our oldest paintings, so as to deepen and sharpen them. After several years turned towards an obese materialist painting, we have come back to a misty geometry, as at the time of Ex Futuro. But instead of spray paint (which is industrial and dirty), we went for watercolour sprays (which are luminous and pure). But, despite using watercolours, the idea was still to produce an excessive form of painting that verges on being sickening. In The Descent, the colour shadings waver between the dusky shades of Georgia O'Keeffe and airbrushed SF landscapes.


For the paintings in this new series, you use burlap canvas, with a raw, impure texture, and watercolor paint in a spray. Contradictory tensions can be seen in these elements: are you looking for a form of confrontation or fusion?

The irregular, furry weave of the burlap canvas is there to break up the purity of the sprayed watercolours, providing a coarse sensuality. It's both soft and rough.


In the entirety of your production, you have set about manipulating light: what is the contribution of the visible and of the invisible in these various experiences? What is your interpretation of it when it comes to the definition of your painting?

Light is the central element of our painting, it could even be said that our different series are portraits with light as their sole subject.
With light, what is interesting is the ambivbualence that shifts it from the sacred to the material, from the esoteric to the technological… Our paintings play massively on this ambivalence: light appears in them in opposition to a rough element. In this new series of watercolours, the light source comes from what has not been painted, the shine that irradiates summits with cubist, rainbows thus comes from the plain white of the burlap canvas.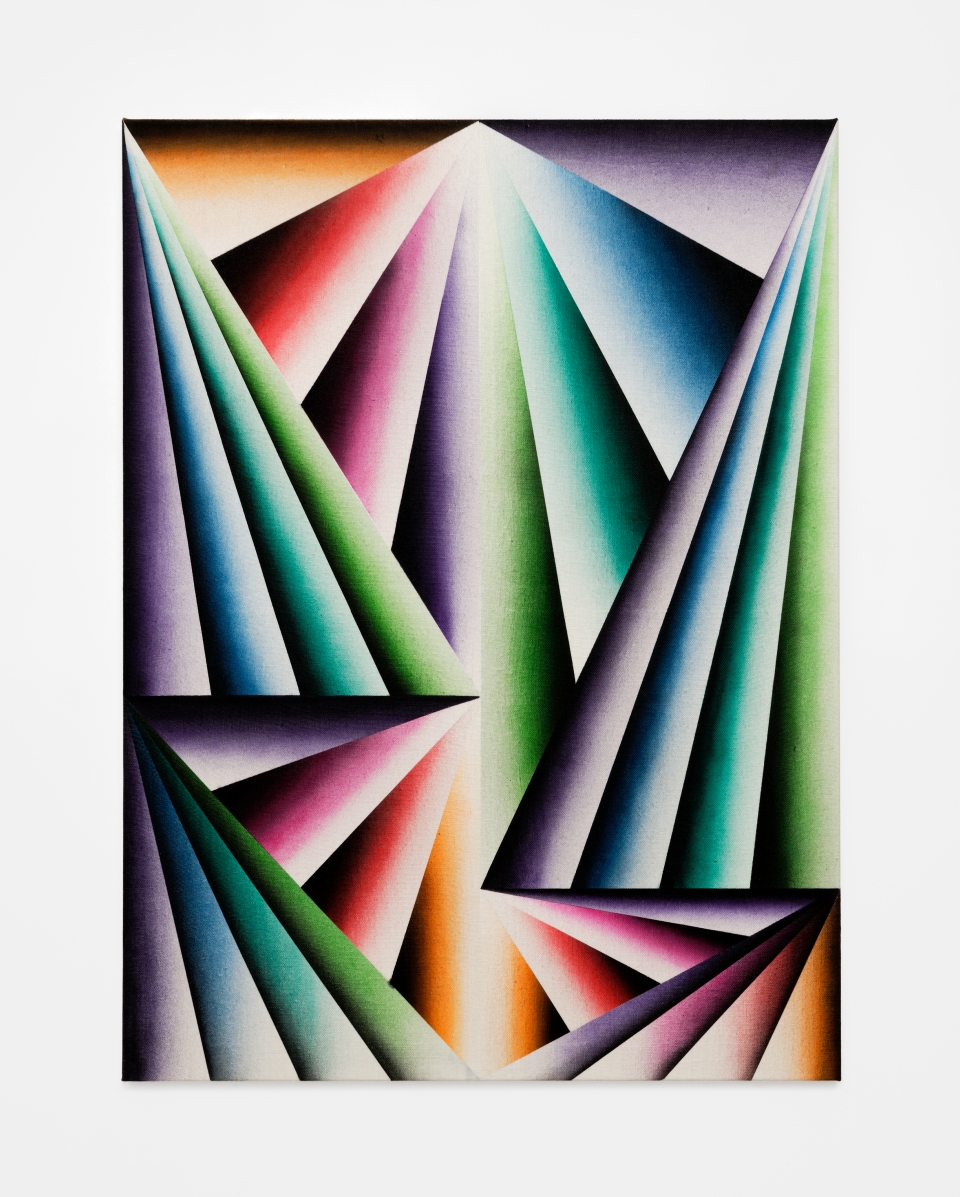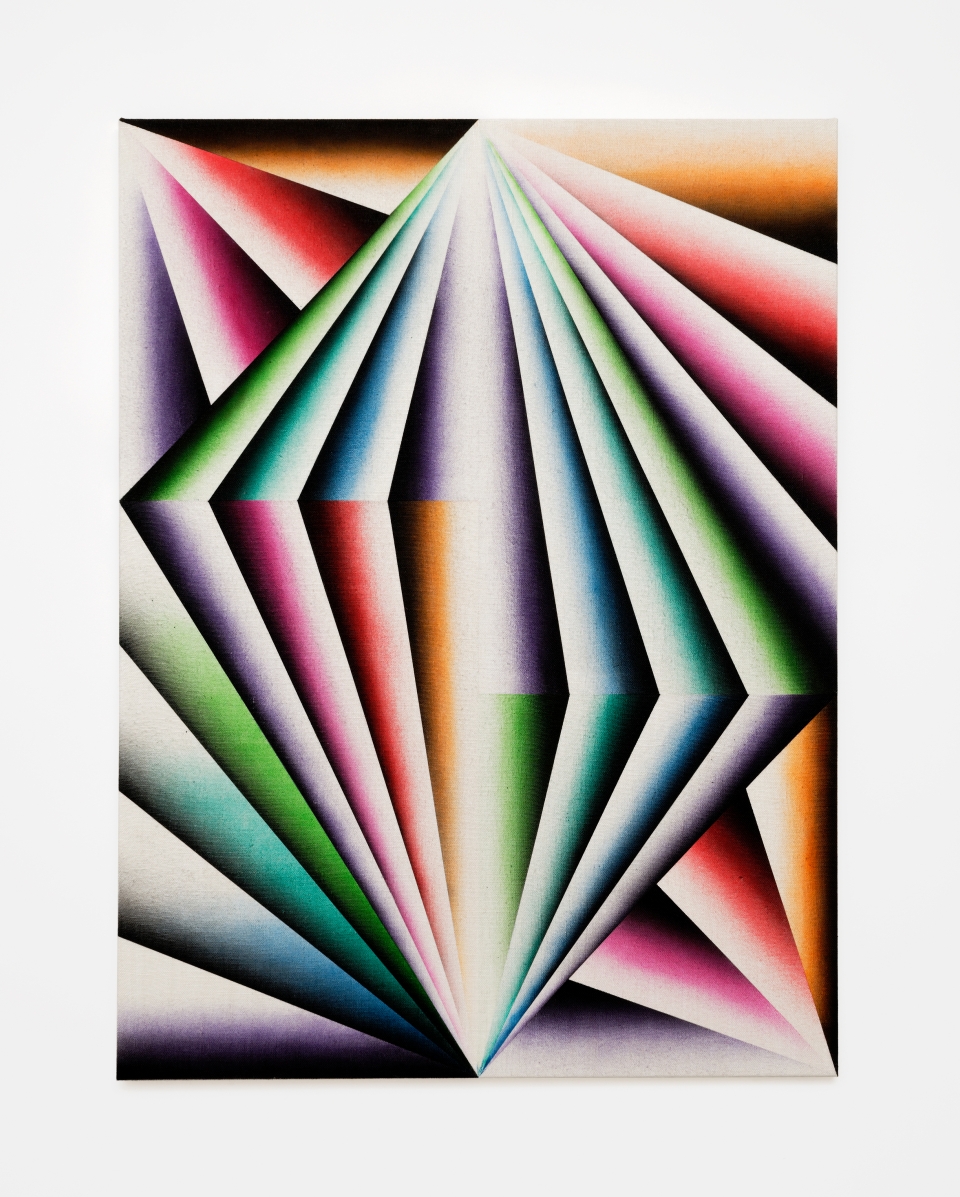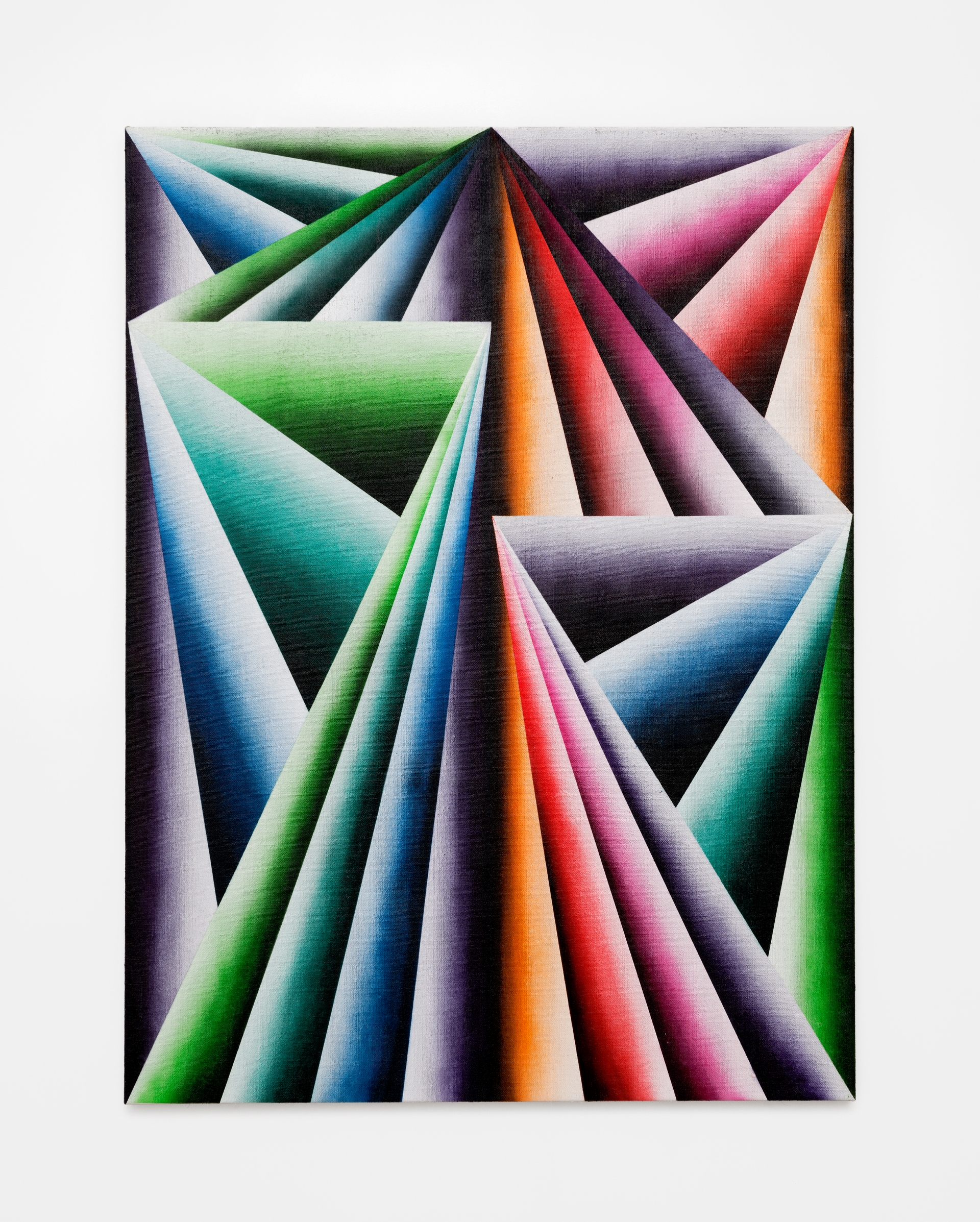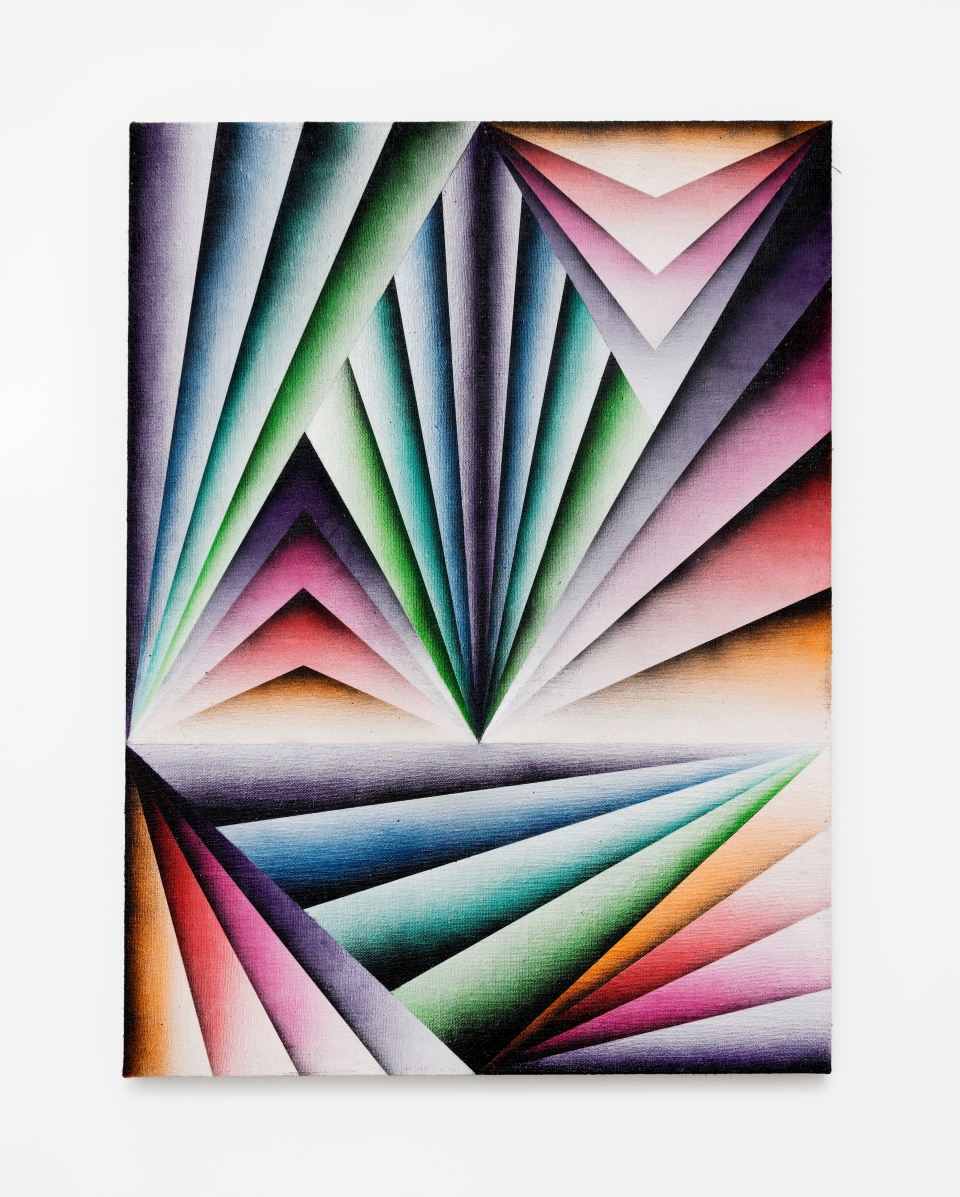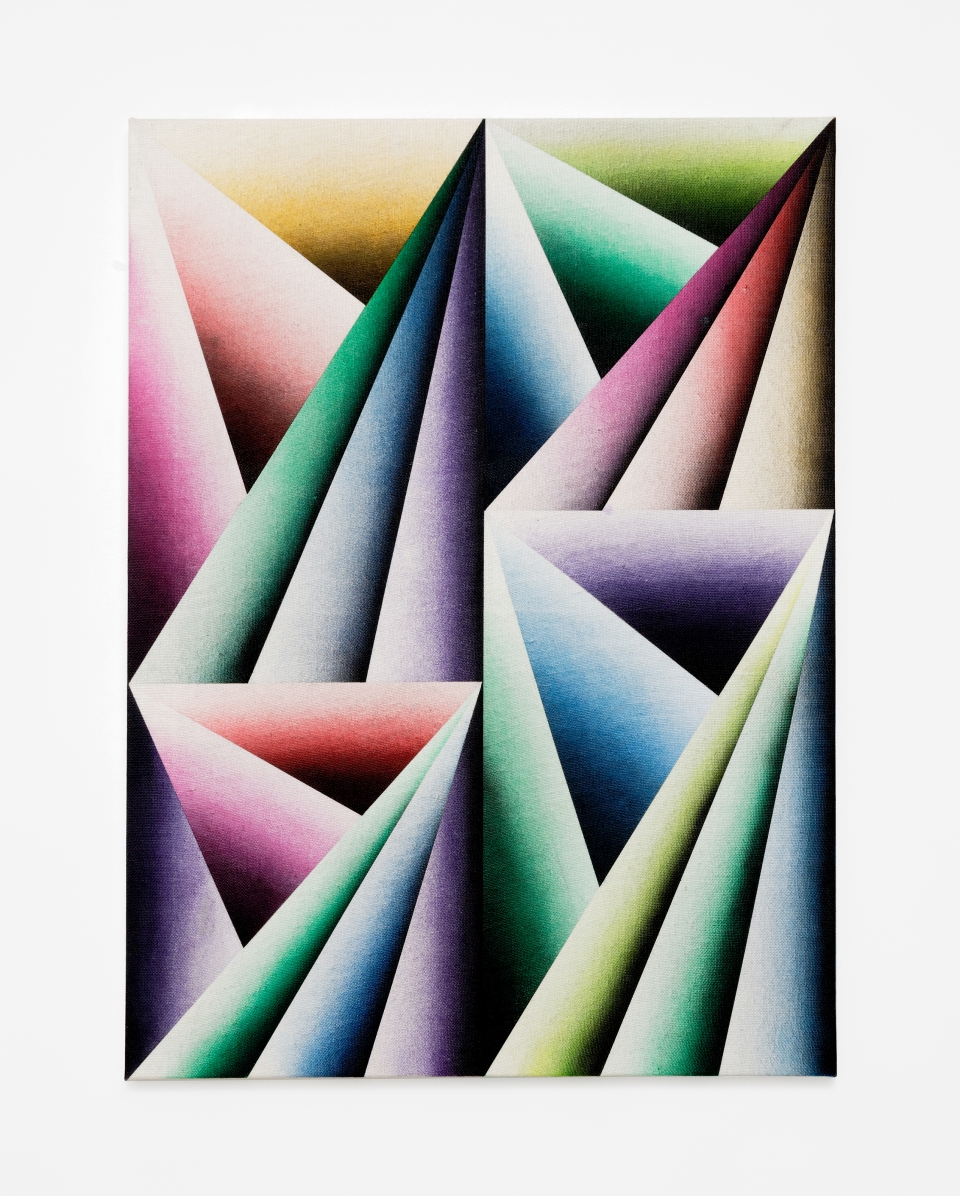 video © César Kaci
exhibition views © Aurélien Mole
studio views © Florian & Michael Quistrebert